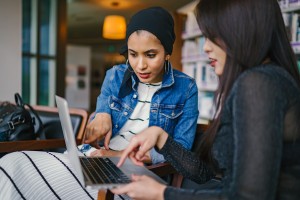 As Entrepreneurs and Business Owners pivot and re-shape their business models, Elite CFO Services is emerging as the CFO Standard for Small & Medium Sized Businesses.
A trend is emerging as companies transition from hiring In-House CFOs to utilizing Fractional CFO Services on an as-needed basis.
Gone are the days of an In-House CFO with a supporting Staff & Personnel. The P&L cannot support these Costs… plus, the model is obsolete.
Like advancements in Technology over the last 20 years, the same can be said of the skill-sets needed for the Modern Day CFO.
The CFO of General Ledgers & Accounting Systems must Upgrade to a Data-Driven Strategist who uses Digital Tools & Analytics to match the pace of change in this modern era of business.

VS.
According to Small Business Study1 commissioned by Google in 2018 called "Connecting Small Business in the US", 80% of US Small Business are not taking full advantage of Digital Tools.
In my opinion, that short-fall lies directly on the CFO. The reason why?? Look at the Numbers…
Relative to companies with Low Digital Tool Engagement, those with Advanced Digital Tools experienced:
2x as much Revenue per Employee
4x Higher Revenue Growth over Previous Year
Avg. Employment Growth Rate 6x as high
And why are Small Business not embracing the full Digital Age?
Because many CFO's are still stuck in General Ledgers, Taxes & Accounting Systems… staying busy, but not adding value. Thus not equipping Business to go to the Next Level.
Elite CFO Services is the Modern Day CFO Service Platform. We equip companies with CFO Expertise and Services that utilize Digital Tools and Analytics take their Business to the Next Level.
Respectfully,
References:
1Deloitte (2018), Connecting Small Businesses in the US, available at: https://www2.deloitte.com/content/dam/Deloitte/us/Documents/technology-media-telecommunications/us-tmt-connected-small-businesses-Jan2018.pdf
---

Stephen Perkins